Welcome to lumberjackjoe.com, a site dedicated to the creative work of Joe Taylor. I am a mountain and nature loving, checkered shirt wearing creative from the West Midlands, with a mild wood obsession. Hence the name!
I am a Senior Graphic Designer and Art Director at Leopard Co, a strategic marketing communications practice that houses two other brilliant businesses Big Cat and spotty dog communications.
Over the years I have had the opportunity to grow and tackle challenges such as designing the landscape for a Wilkos garden build video to creating the artwork for the Tradies NFT community. I have art directed multiple photoshoots for different clients where I have had to coordinate props, products and models to achieve the required creative outcome.
Throughout my career I have had the opportunity to work with some amazing clients. The likes of Holland & Barrett, Toolstation, Costa, Simply Business, Vodafone, Citroen and Jewson to name a few.
Please feel free to continue down the page to check out some of my favourite projects.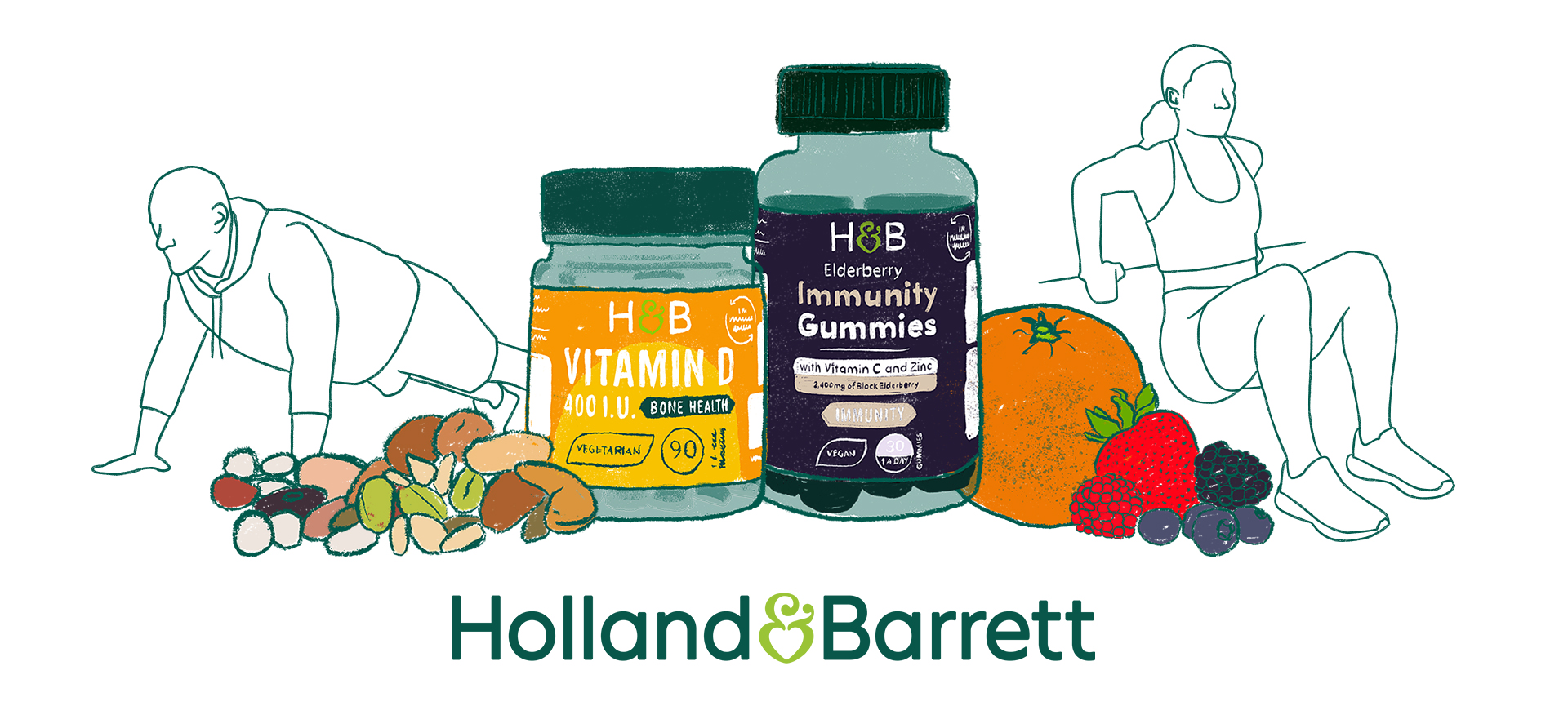 I have worked with Holland & Barrett for nearly 3 years on their social media accounts ,creating bespoke designs and illustrations as well as art directing photoshoots.
To create the content, I worked closely with the design team, account managers and video team to firstly go through a planning process. We have regular team creative meetings where monthly themes are discussed and ideas are generated. Once these are approved by the client each individual piece of content is planned out. The content is then defined either as a graphic, a photo or mixed media, which channel that it goes on and what the brief is. This is a process I developed using the online software Asana to help project manage. Next, the photographer and I plan the shoot creating mood boards for each shot and work out what else we need in regards to products, props, models and locations. My favourite part is then taking all of this and directing the photoshoot to create some lovely inspirational imagery. Once all the photos are edited, I use some of them to create graphics and further content using illustration and other design elements. 
Further to creating content for Holland & Barrett's social media, I have also had the opportunity to produce suites of graphics for their paid marketing, exercise animations for their website and art direct product photography for their audience in China.
Tradies NFT has been a great project I have been able to immerse myself in and have full creative control over. Using my own quirky style of illustration I have been able to create a whole tradieverse, and then transfer the brand identity into everything it touches, whether that is the actual NFT artwork, www.tradiesnft.com website, IRL event promotion material or merchandise.
2022 Chip Shop 'Best use of honesty' Category Winner
I art directed and designed this creative which was inspired by the work of Amnesty International, who have campaigned tirelessly to raise awareness of migrant deaths in Qatar. With this campaign, the team and I were seeking to highlight Amnesty's Qatar Report. The ultimate aim was to increase international pressure on the Qatar government to further protect workers, to transparently investigate the previous deaths of migrant workers and to fairly compensate their families. The World Cup is an incredibly high profile event, garnering the attention of millions globally, and almost all of that focus will be on the sport and players. The challenge here is to cut through the excitement and pull some of that focus on to the human rights abuses associated with the 2022 tournament. In order to achieve this, we have built the creative around an iconic English football slogan and England branded merchandise, which we know will immediately resonate with England fans. This mechanism provides a consistent platform which would allow us to run the campaign across a number of countries, essentially adapting the original campaign with similarly recognisable football slogans and merch for each location. Alongside our digital and traditional creative, I also mocked up a Netflix expose – Qatar 2022, Built on Blood. With expose and behind-the-scenes content currently leading the most viewed lists on Netflix – Inventing Anna, Drive to Survive, Bad Vegan etc – the stage is perfectly set for an investigative series around the 2022 World Cup.
On the Tools is the largest online construction based community in the UK, with over 6 million followers over all social channels. In the time I have spent working for On The Tools I have been involved in a diverse range of projects. From branding of print and digital assets, to creating merchandise. I often work on targeted advertising for the clients of On the Tools and create inspiration pitches when tendering to new clients. On top of this I have worked with the production team on numerous occasions to create sets for live Facebook videos, as well as branding, clothing and design assets to be used with other video content. Other areas I have worked in whilst working at On The Tools include: producing email campaigns, surveys and landing pages.
Photography is very important to me. I love to work with great photos as a designer and I love to be hands on, on a set, helping to make great photos. It is something I enjoy doing outside of work to keep me creative. Sometimes I go out in search of great photos but also I carry my camera to document life's moments and my interests. Please check out some of my personal photography below.

Thank you for viewing my work. If you would like to get in touch please use one of the social channels below and don't forget to view the extra examples of my work including branding, illustration, guerrilla marketing and social content.